After-School Coaching
For the Juniors, Mark and the SMASHTENNIS team of coaches run a variety of structured group tennis lessons for children where all ages are encouraged to develop their tennis skills while having fun. Great care is taken to ensure children are placed in coaching groups to match their ability. We have tennis lessons for beginners through to advanced tennis coaching.
We consistently book over 100 players each term in after-school tennis coaching. We have many classes available for you to choose from. Visit the online booking schedule to book or simply txt Jo: 021 493 489 or email jo@smashtennis.co.nz.
See below for the After-School Walking Tennis Bus... an easy and safe way to get to Belmont Park Racquets Club from local schools.
Bookings for kids' tennis lessons may also be made online via the link below.
please text jo on 021 493 489 to book into a group or for enquiries.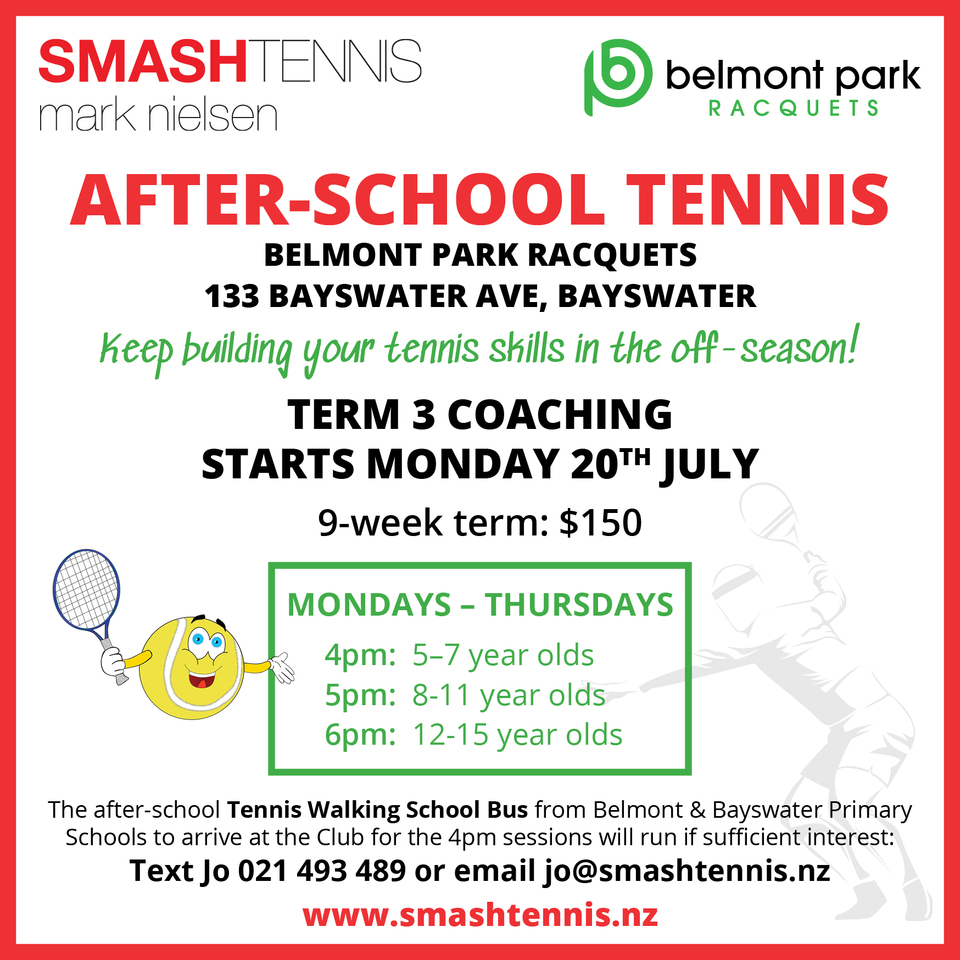 SMASHTENNIS After-School Walking Tennis Bus
In Term 3*, we are offering an easy and safe way to get to our after-school tennis programmes from Bayswater Primary and Belmont Primary Schools. Children will be escorted from school down to Belmont Park Racquets Club by a tennis coach. They can eat their own afternoon tea before going on court at 4pm for their tennis lesson.
Bus Cost: $45 for 9-week term
+
After-School Tennis: 4pm-5pm, Mon-Thur, Term fee $150

*Subject to numbers interested this term. Please register interest with Jo before start of term.
TXT Jo: 021 493 489 or email jo@smashtennis.co.nz